October 15, 2006 was a very beautiful day..... The memorial went beautifully.
It was a tearful day full of love, we felt so many spirits with us. Apache was there too.
Tonya had a beautiful set up, sage, her buffalo staff and many other staffs, feathers, leather, and Apache's ashes in a beautiful box were displayed. This was all set up in the grassy area where Apache used to lie.
Tonya lit the sage and blessed each person before the ceremony began. I love watching her do this it brings such emotion to the surface. I know it drains her though.
Tonya spoke and shared Apache's life, what he meant to her, how he helped heal many and teach children. Thru many tears, she told of us how he passed and how hard it was and still is.
Valerie, a lover of the wolves and part of our pack, wrote a song for Apache and she sang it. She has a very folk type voice and she feels the music and words very strongly. This song talked about Apache's life, his love for children and his healing abilities. There was not a dry eye in the sanctuary. I had not cried until now and boy did the damn open, it was a nice relief and a closing for me to let him go. When Valerie was singing a warm strong wind came thru the area we were all sitting, I noticed that it came when Tonya and I were sobbing the hardest, I know this was Apache telling us it was okay and he was fine. Even now he tries to help us feel better.
Next Dan, Tonya's brother got up with his small son Chush and he talked a bit thru tears about Apache and he played many songs on flute. They were various songs calling different spirits, the Bear, the Owl and also one song for lost children in the area..... He then played the drum which was very powerful and his singing was soothing and haunting at the same time. Chush who is 2 helped him with the drumming as well.
During the flute playing and drumming Apache was visiting the wolves, he danced for a long time with Istas and Wanagi, we watched them and they were doing these interesting loping dancing type of moves and Wakinyan did not stop moving the whole time, mom said that Apache was dancing with him too. The minute the music stopped so did the wolves.
Tammy another friend of the wolves did some singing and drumming as well after a tearful speech about Apache and what he meant to her.
Tonya talked about the flowering tree that I bought and said that we were going to plant a tree of life to honor Apache in his favorite place where he used to lie. Tonya said that everyone was going to shovel a piece of earth and this would show Apache how much each of us loved him and still do.
Tonya did the first shovel, then me, then Stephanie, Al, Jessica, Michael, John, Matthew, Andrew, David, Dan and Chush, Victoria, Keith, Jim, Valerie and Valerie's boyfriend (sorry can't remember name), Tammy and her boyfriend, Marsha and her husband and her friends, and a few visitors that were there as well.
Once the hole was dug, Tonya and I planted the tree. After that we put Apache next to the tree and Tonya said he liked it. He stayed there until dusk.
Tonya gave a gift of sage to each of the singers in the ceremony this is how she thanks them for participating.
There was a lot of great food and everyone ate and visited the wolves.
It was a very good day.
Apache is now in his place next to Niosha and I feel he is in peace and he truly knows how much he was and is still loved. I think this has given Tonya some closure and thought she misses him dearly I think she can move on a little bit at a time.
Howls,
Angelwolf (Danna)
All pictures are for viewing only and should not be copied. This was a Native American ceremony and I have permission to share them with you all.
This is Rebel and Apache's ashes are in the wooden box. Rebel never comes to this are anymore. He and Apache were very close and hung out all day together. Rebel has not handled the loss of Apache very well. He does not come to this part of the yard any longer. Please notice all the beautiful things that Tonya placed here for our ceremony.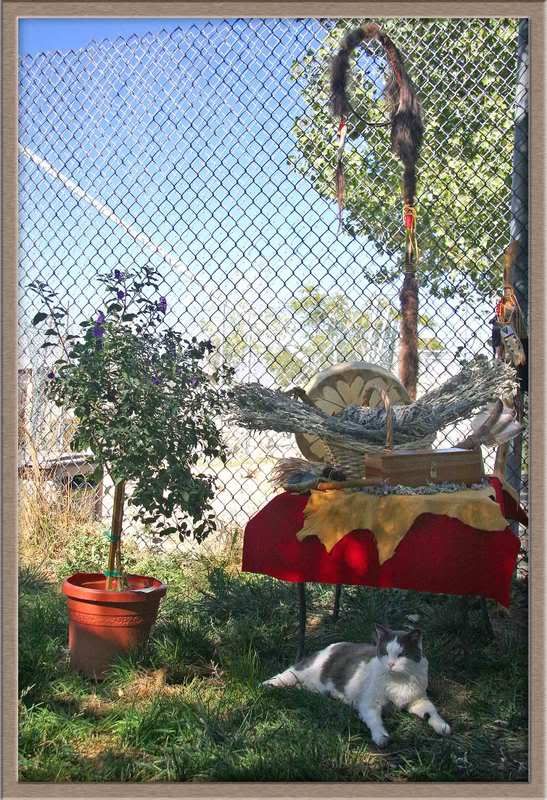 A close up of Apache's ashes...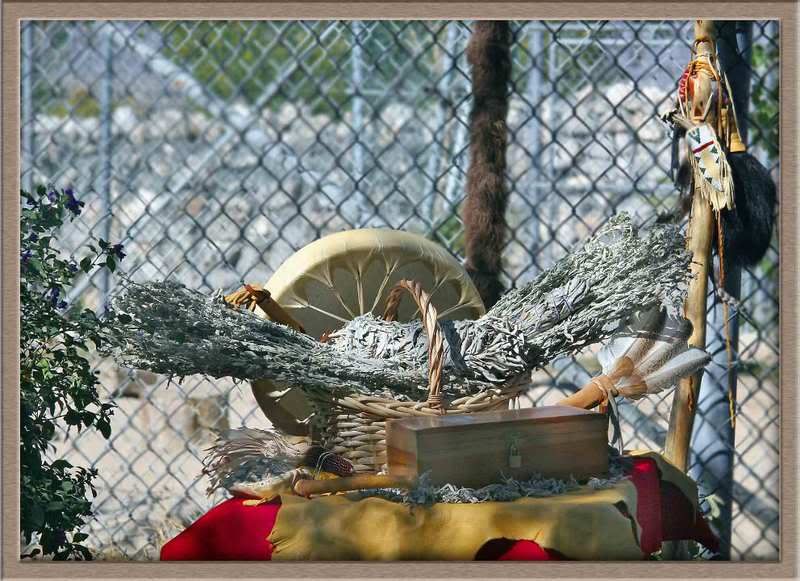 Tonya speaking of Apache Moon. You can see the pain and sorrow in her beautiful face.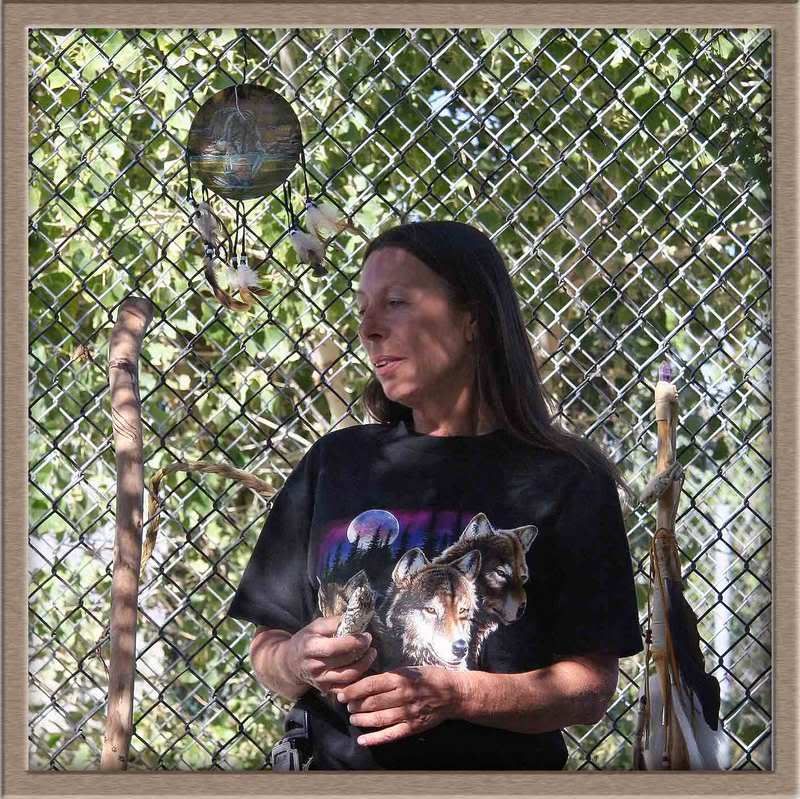 Tonya Littlewolf (Mom) saging my brother (Jason Laughing Wolfboy)
Tonya praying...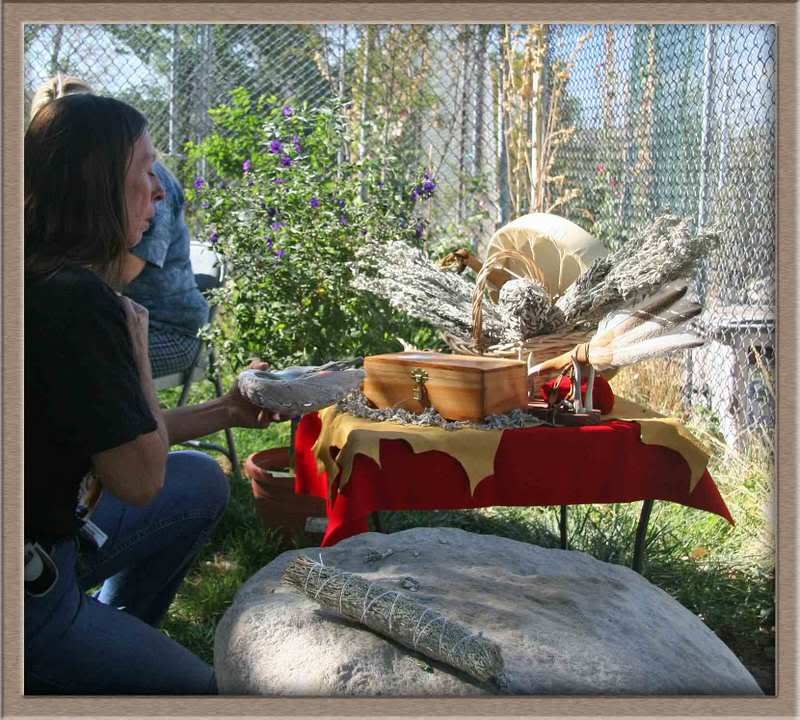 Valerie singing the song she wrote "Apache Moon". She has a great folk voice and she will have a cd coming out soon with this song on it.... This song was sung in such a soulful way and there was not a dry eye at the ceremony. This song offered us all a great release......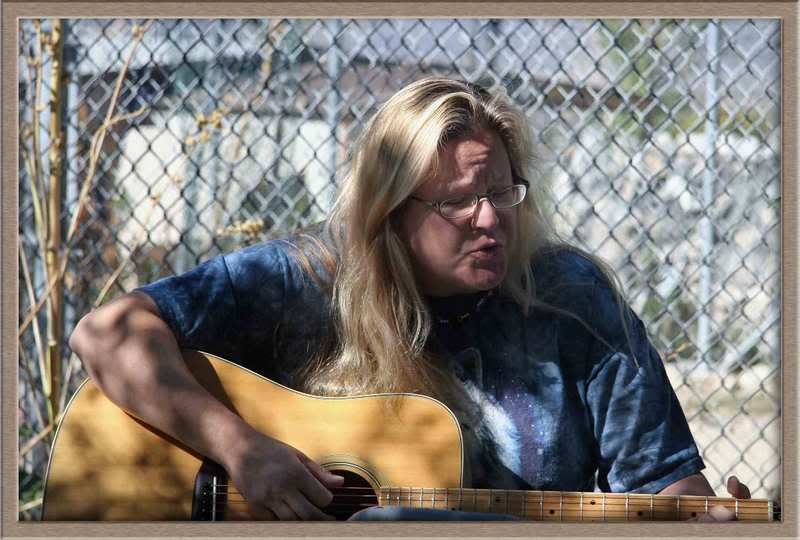 Dan, Tonya's brother is playing the flute. He truly made some beautiful soulful sounds with this flute. His son Chush is standing with him. A very beautiful little boy. Notice Wakinyan in the background. He was dancing.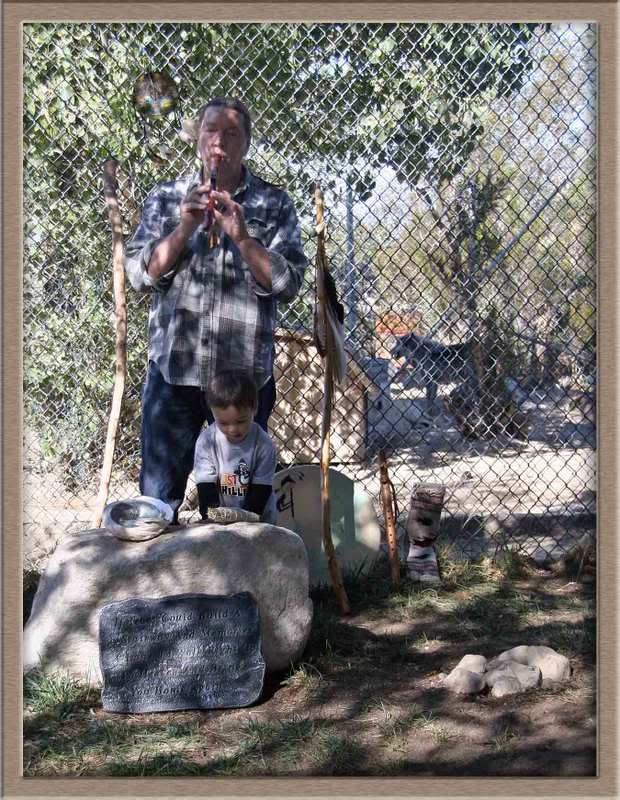 This rock was part of the ceremony. It was very hard to read in the photos so I inverted it so you could all read it. The words are so fitting and so true...... for those we have lost.... until we meet them again.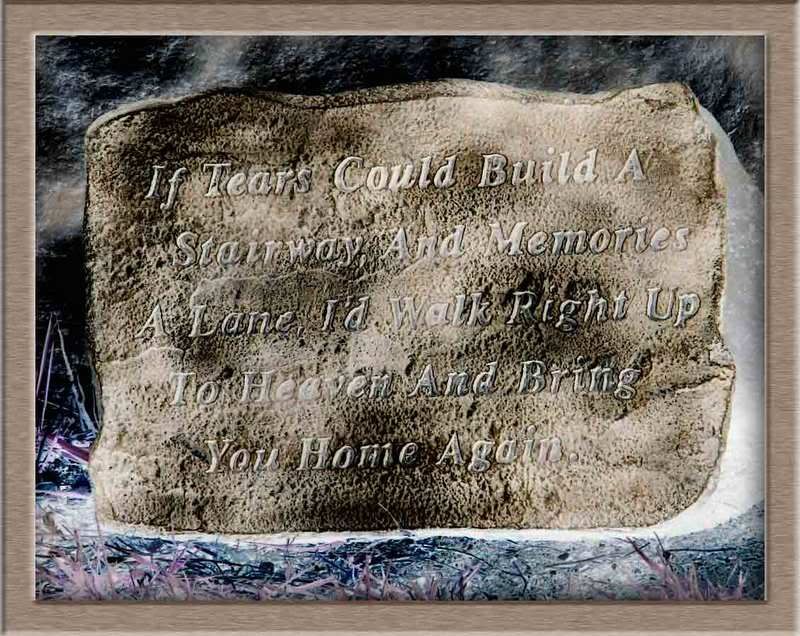 Friends of the wolves watching Dan play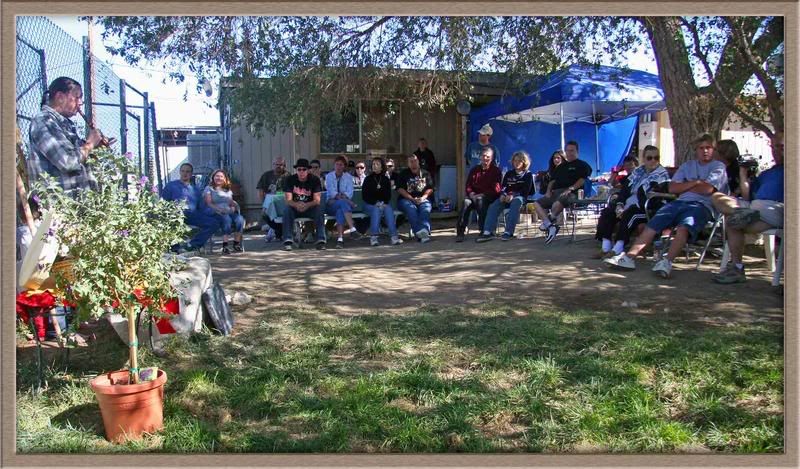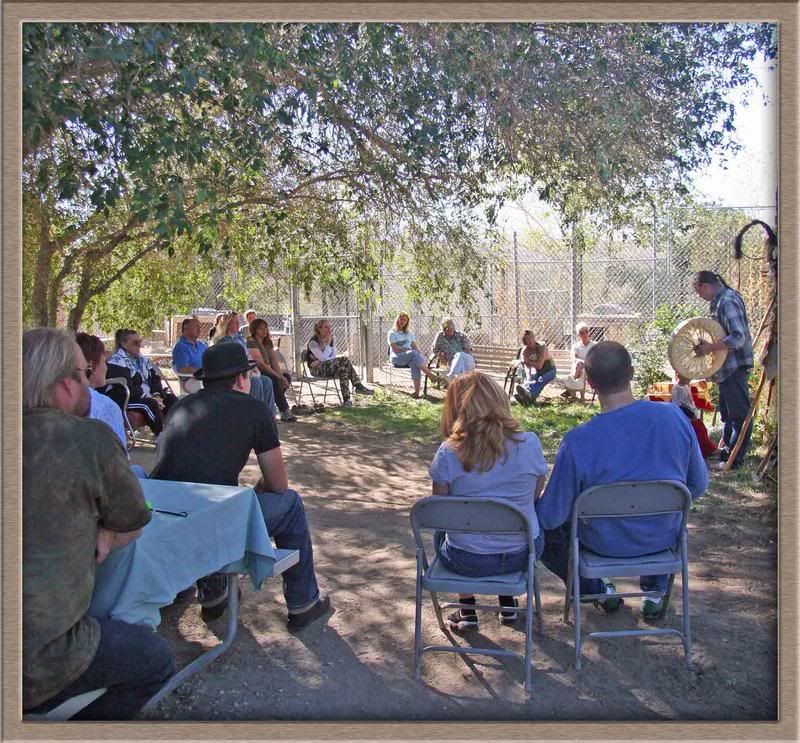 Tammy drumming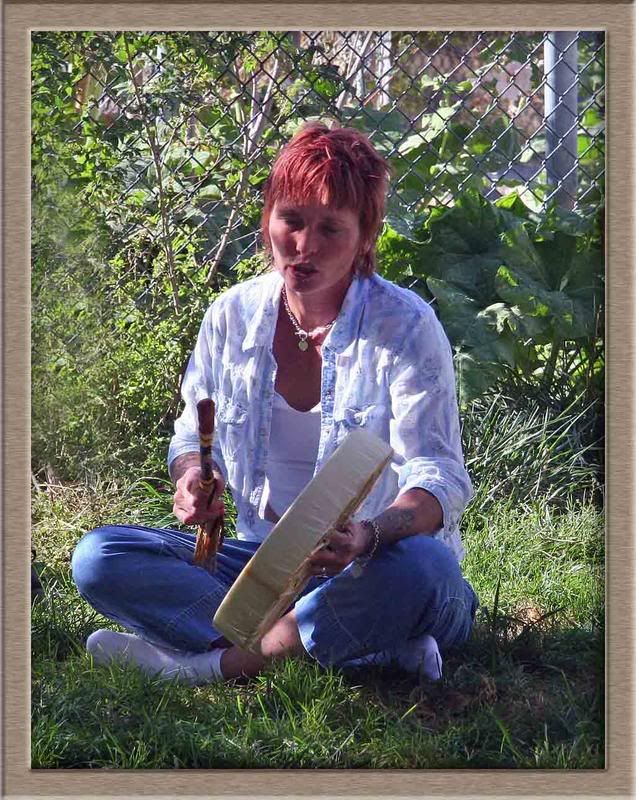 Mom making breaking the earth for Apache Moon's Tree of Life.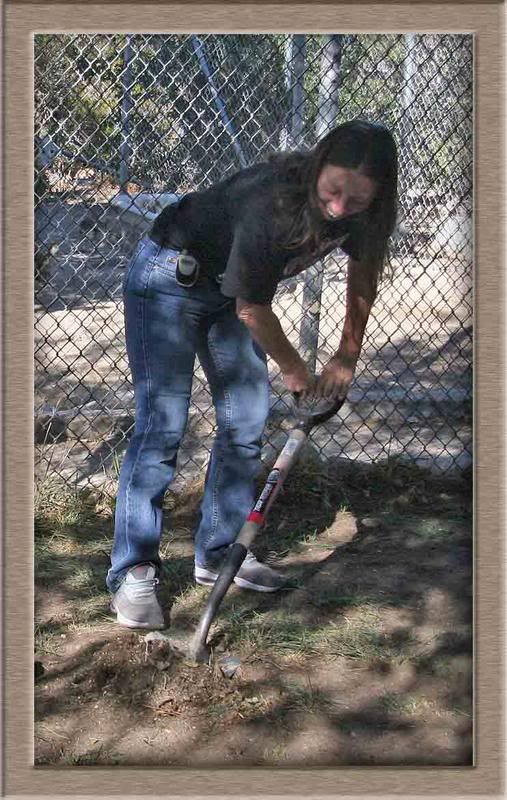 My turn . .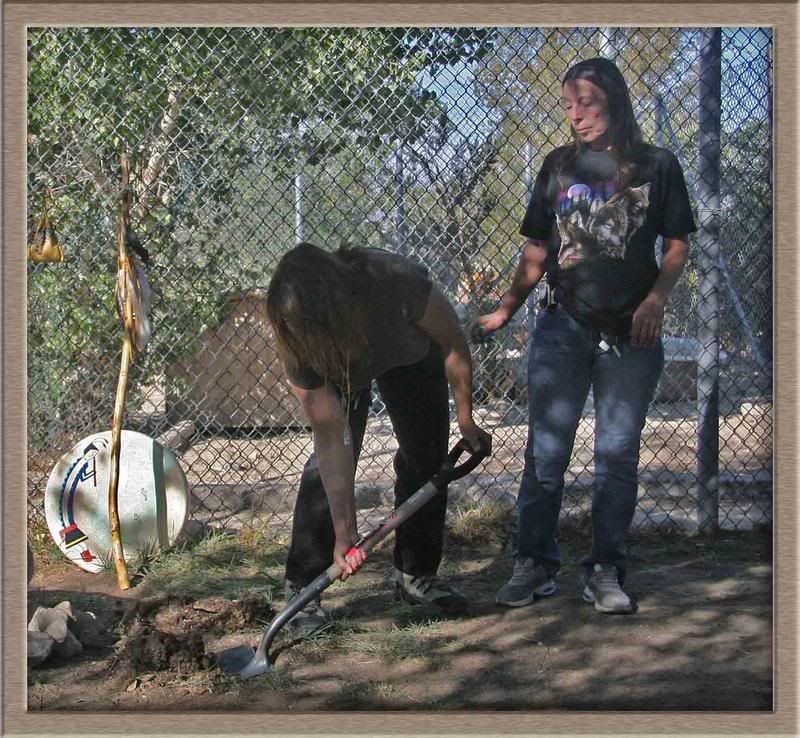 Keith's turn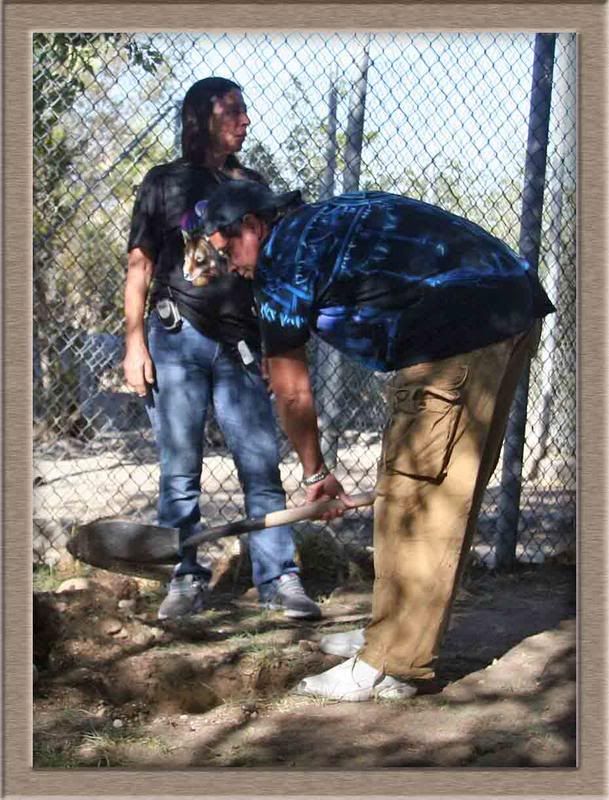 Many many people took one shovel of earth from this hole, Ton's kids first, then her sister's and brother's and then friends of the wolves. I just posted a few of us as there are too many to post here.
Tonya had to take the sledgehammer to this hole as there were some tough rocks, man this little woman can swing this huge tool. She did it a little longer than necessary and I think she was getting out some anger over our loss.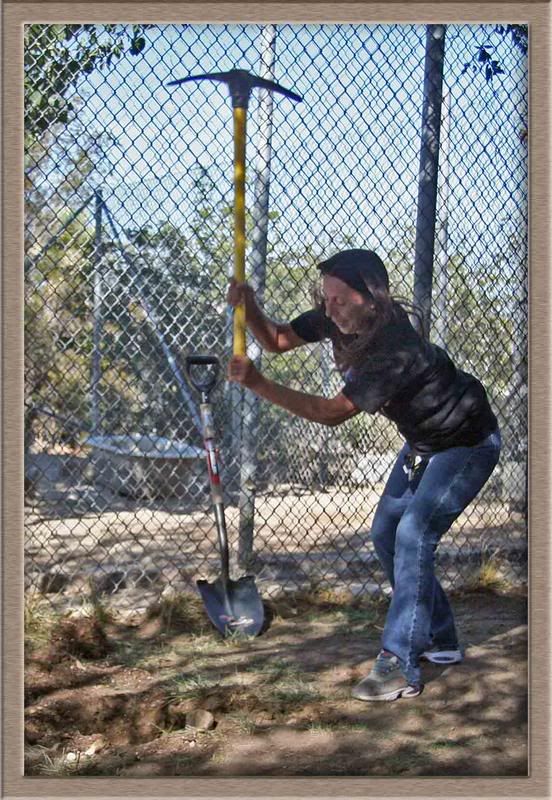 Tonya and me putting the tree in the earth.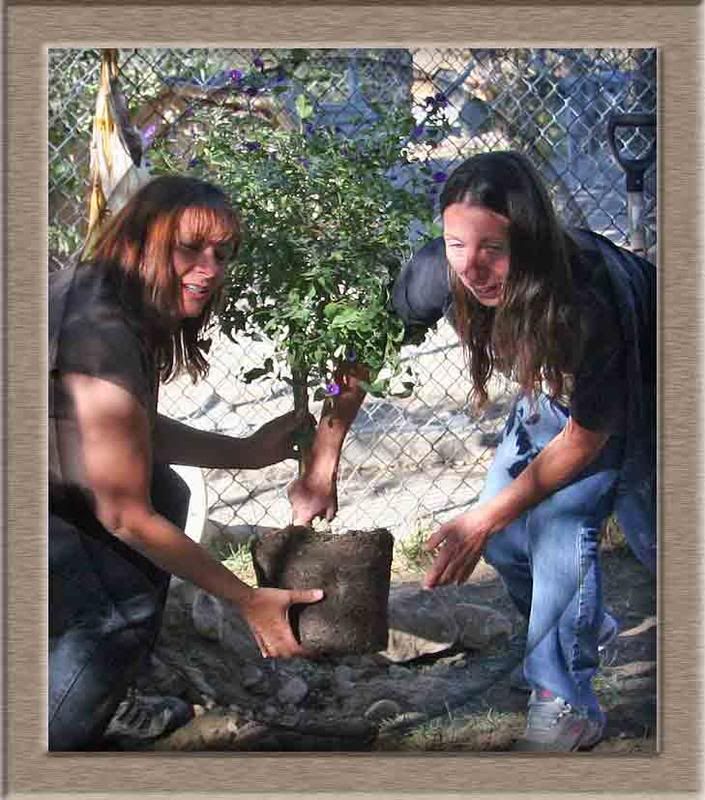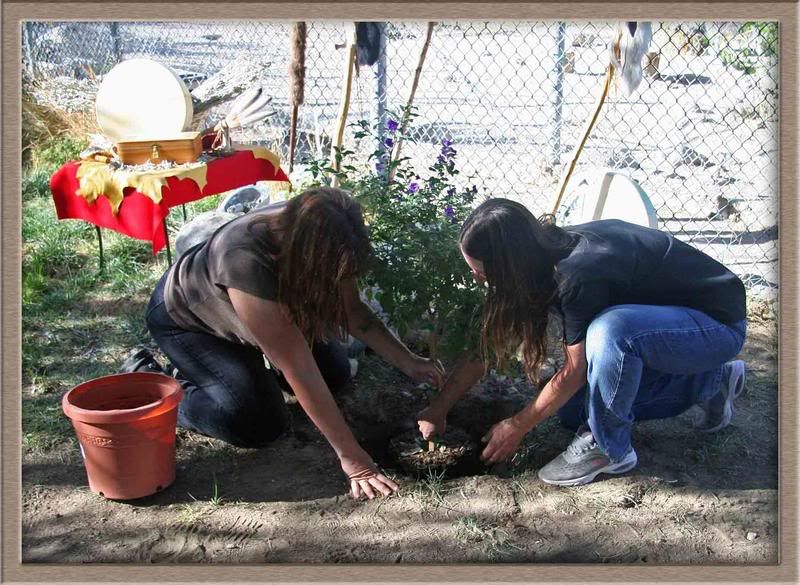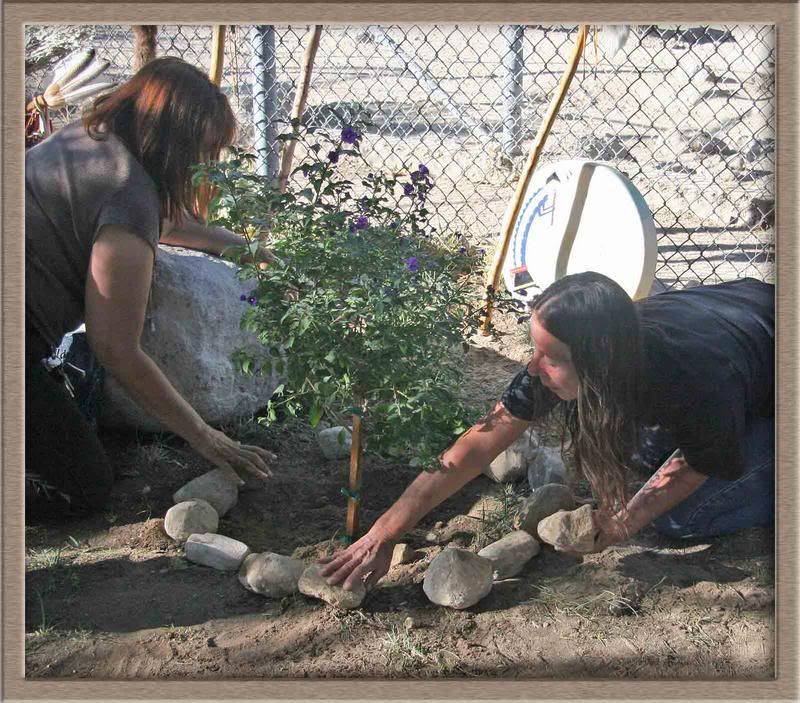 We decided to put Apache by his tree and see how he liked it... Tonya said he did... She left him there until dusk and then he took his place in the house with Niosha...
A close up of Apache's Box
A memorial 13x19 photo was made for Apache Moon. It shows many great photos and a poem written for him by Elizabeth Aldam, a lover of Apache. This photo is available at www.digitalsbydanna.com for $25 (proceeds go to WMS).
---